Lewis Hamilton receives online racist abuse following dramatic British GP win on Sunday; seven-time Formula 1 world champion has been a high-profile voice in the fight against racism
Last Updated: 18/07/21 10:50pm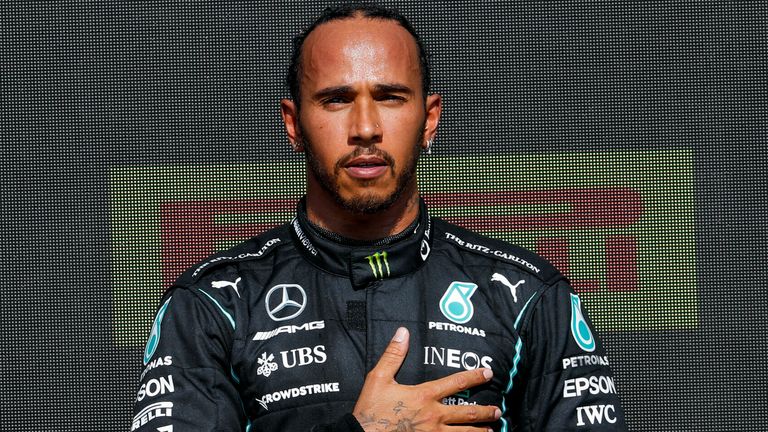 Lewis Hamilton has been targeted with online racist abuse hours after winning the British Grand Prix for the eighth time.
Hamilton claimed victory by overtaking long-time leader Charles Leclerc late on in front of 140,000 spectators at Silverstone.
The 36-year-old recovered from a 10-second time penalty for a huge first-lap crash with title rival Max Verstappen on a dramatic afternoon.
Racist messages including 'monkey emojis' and other racial slurs were sent as replies to a post by the Mercedes team on Instagram celebrating Hamilton's success.
Sky Sports News has contacted Facebook, the parent company of Instagram, for comment.
Seven-time world champion Hamilton has consistently been outspoken against racial inequality throughout his career, most recently voicing support for Bukayo Saka, Marcus Rashford and Jadon Sancho, after they missed penalties in the Euro 2020 final and as a result were subjected to a torrent of racist abuse on social media.
Hamilton has been a high-profile voice in the fight against racism and called for tangible action to create a more diverse and inclusive society.
Lewis Hamilton celebrated with the British fans after winning a dramatic British Grand Prix by passing Charles Leclerc in the closing stages
The Hamilton Commission, the body the Mercedes driver established with the Royal Academy of Engineering to look into the barriers to more representation of black people in motorsport, this week presented its findings and made 10 recommendations for the future to improve opportunities both in the motorsport industry and the UK's education system.
Hamilton has said he is personally committed to helping put the recommendations into action and, in an interview with Sky Sports F1 at the British GP, said of the idea of his commission: "It's all been about understanding. So I was asking a lot of questions for a long, long time, for years. Why am I one of the very few people of colour here? There was never a good answer, no one ever knew.
Sky F1's Natalie Pinkham sat down with Lewis Hamilton to reflect on his year so far and the Hamilton Commission, which aims to improve diversity in F1 and beyond
"No one was going to do the work so it was perfect opportunity for me. I was like 'I'm going to do the work and get the research in'. For me I really wanted to understand the root of the cause so that I could know better but also the industry, we can go on a journey together.
"So it's great to see what Formula 1 are coming out with [scholarship programmes for underrepresented groups were announced this week] and I know the FIA will be following with something soon.
"But that's kind of pre-emptive, that's not done with this research, so now they'll have these findings to be really able to back up and make sure that it's sufficient so we are really getting to the root of the cause and making real tangible changes."